Shahin Ashraf, Islamic Relief Worldwide Head of Global Advocacy
 Islamic Relief is joining the international community in celebrating the incredible women humanitarians who are striving to make the world a better place. Our Head of Global Advocacy, Shahin Ashraf, explains why:
Women are often the unsung heroes not just of aid work but also of the work they do in their families and communities, helping people in need and securing peace.
As humanitarians, as health professionals and teachers, as carers, as peacemakers, so many women work tirelessly in the service of others.
At Islamic Relief we have inspiring women working on the front line of aid delivery, both in emergency response and in lifting communities out of poverty.
We see women as heroes and survivors, not victims
Too often we hear of women predominantly as victims. Some of the language is changing for the better – increasingly we talk about those who have experienced abuse as survivors, not victims, for example.
But we still tend to hear comparatively little about women as change-makers – and as inspirational forces.
Time and time again women who have been through enormous suffering themselves manage to gather the strength not only to survive trauma but also to be pillars of strength for their families, communities and societies.
And it's the same in aid work – women are among the foremost heroes of Islamic Relief's work.
Despite all the challenges and barriers they face, they get up every day motivated to help others and make the world a better place.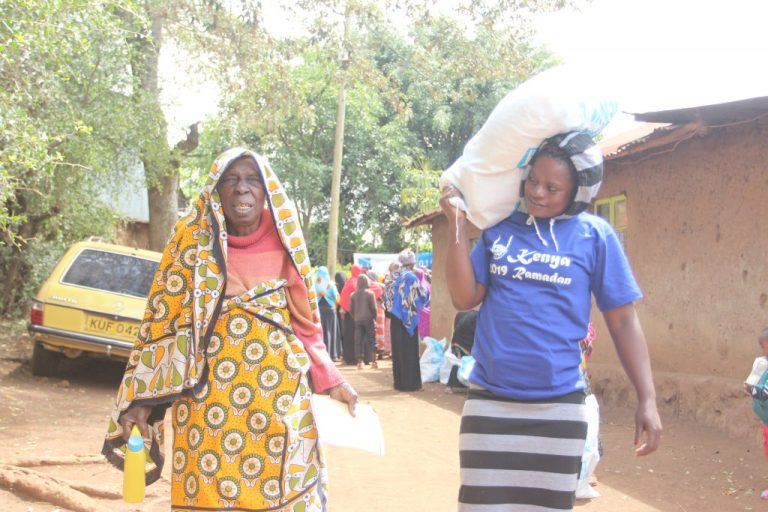 Giving out food parcels is not all it takes to show we care. Islamic Relief staff go the extra mile for those in need, even if it means carrying a heavy sack to the home of an older lady in Kenya during Ramadan.
Women are a core part of the Islamic Relief workforce, serving the organisation in so many key roles, such as humanitarians, doctors, and advocates.
Most of the people Islamic Relief supports are women and children, and women are usually able to relate uniquely well to other women.
So much of our work depends on our female staff and volunteers accessing other women and getting to the heart of their concerns and needs.
Women are integral to Islamic Relief's work
It's heart-warming to see women leading in campaigning for change, whether that's calling for gender justice or tackling climate change.
Many of these issues – from poverty to conflict – adversely affect women. In fact, it's often women who suffer the effects the most.
Even something as simple as accessing education becomes an issue for women in some communities, if for example there is no provision for girls on their period.
The barriers are huge for women around the world. So to create fairer societies, I want to see more women in decision-making roles.
More is needed to empower women humanitarians
We know the role of caregiving often falls on women, especially as mothers and daughters, so in a sense as humanitarians our work to serve others never ends, whether in our jobs or at home.
Women undoubtedly face challenges in the workplace, such as being to the fore in critical grassroots roles and yet being unrecognised or unable to input at a strategic and management level.
The humanitarian aid sector needs to do more to eliminate these obstacles. We need to invest in female leadership in humanitarian work and also support women with more resources to fulfil their potential.