Chama is a Swahili word referring to an informal self-help group in which members pool resources. Islamic Relief is strengthening the chama in Kenya by establishing group savings and loans associations, helping women in arid areas take a step towards self-reliance.
For many, access to a small loan is a catalyst for starting their journey out of poverty. The process starts with joining a local savings and loans group. Members, often women, pool their savings and borrow for their families' needs. Members repay the loans to the group at a small service charge.
Communities living in remote areas have limited access to essential financial services. Limited access to savings and credit services means vulnerable people cannot afford to invest in their farms, businesses or cater for unplanned events like illnesses or funerals.
To lead community recovery from drought and strengthen family incomes, Islamic Relief is training community members to create and lead the group savings and loans association in Kenya.
Nitunze Nikufae Women's Group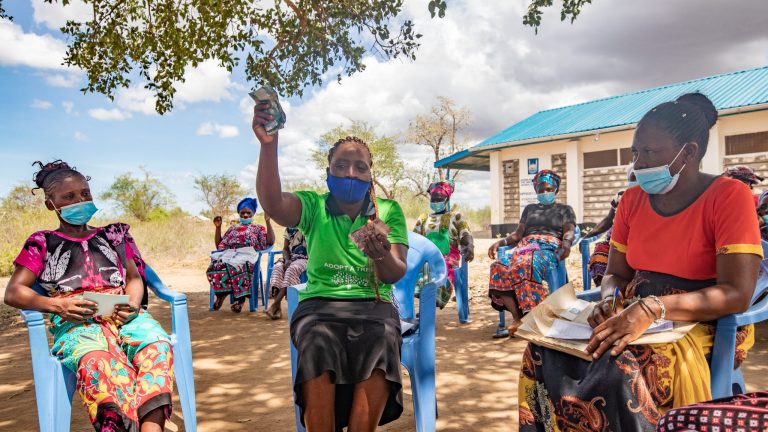 Nitunze Nikufae Women's Group is one of the 20 loans and savings groups created by Islamic Relief in Mandera and Kilifi, Kenya. Members of Nitunze Nikufae Women's Group meet every Thursday to pool their resources together. The 30 members have collectively saved $1,050.
"Previously, it was not common to find women together discussing development and business. Were it not for this savings and loans group, most women would be away searching for odd jobs,'' said Janet, Chair of Nitunze Nikufae Women's Group based in Garashi, Kilifi County.
"Islamic Relief guided us on how to register the group and open a bank account. We were trained on saving, loaning and electing a management committee. Previously, we didn't even have enough to save in a bank account but we have now developed a saving culture," she says.
Islamic Relief is also empowering savings and loans group members with strong financial education.
"We also received entrepreneurship training. We are blessed to have bought an acre of land at $1,000. We intend to raise enough funds to dig a borehole and engage in irrigation farming by the end of the year. As a group, we also bought 18 seats for hire and to be used by members during personal events," adds Janet.
400 members from 30 savings and loans groups were trained on income-generating activities and entrepreneuship.  3 groups on the Kenyan Coast applied the knowledge gained from the training and received a total of $3,000 in funding from the local government of Kilifi.
The funds and loans shared out are life-changing for women, who can now feed their families, send their children to school and invest in small income generating activities, such as retail shops or livestock-rearing.
Impact of the saving and loan group on families
"I would start a business and it would fail. I was wholly dependent on my husband. Now, we are supporting one another to meet the needs of the family. I have taken a loan from the group to start a retail shop selling stationery and small commodities at a nearby school,"  says mother-of-6 Rose, a  member of Nitunze Nikufae Women's Group. "I can also take care of any school fees so that my children are not sent away from school.".
As groups are maturing and establishing their savings habits, they often need more money than the savings and loans group can offer. To strengthen the groups to better meet members' needs, Islamic Relief injected a top-up of $4,040 to 19 of the best performing groups.
Promoting the savings and loans associations has led to improvements in women's financial inclusion, women's empowerment and family business outcomes. Savings and loans groups play a critical role in accessing useful and affordable financial services to meet their needs.
Islamic Relief continues its efforts to strengthen women's social and economic empowerment.